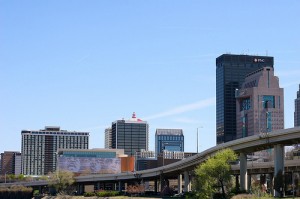 History buffs, culture enthusiasts, and architecture nuts, get ready: free walking tours of Louisville are available!
During PossibiliTours Walking Tours, you can learn exciting, inspiring anecdotes from Louisville's storied history and architecture as you explore downtown Louisville. This is a great opportunity for all ages to learn more about our unique city! And even if you think you've heard it all, the tours are at least a fun way to get out downtown. 
On the one-hour tour, a tour guide will take you down Fourth Street, Whiskey Row, Museum Row on Main, and the civic district. The tour is completely free.
These tours will take place throughout the summer and into the fall on the weekend. The next tour is scheduled to take place the weekend of June 14-16. Tours start at 2 p.m. on Fridays and Sundays and 10:30 a.m. on Saturday. All tours depart from the Louisville Visitors Center.
To reserve your spot on the tour, call 502-379-6109 one day before the day of the tour. You also may be able to walk on to the tour, depending on availability.
Learn more about this event and other events in the area at GoToLouisville.com.