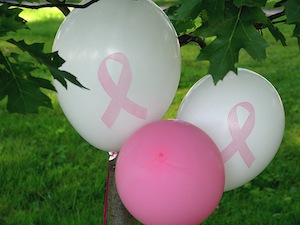 With cancer affecting millions of Americans each year, it's likely that many of us in Louisville know someone with cancer or have gone through it ourselves.
This month, our community joins the fight against breast cancer by hosting the Making Strides of Louisville, KY walk. The walk will serve to honor those who have battled cancer, raise awareness about what people can do to lower their risk, and raise money for the American Cancer Society's research and services.
Making Strides will be held on Sunday, October 27 in Waterfront Park (129 E. River Road). Registration starts at 11 a.m., and the walk begins at 1 p.m.
You can support the American Cancer Society by walking in the event or by donating. The walk is non-competitive and is three to five miles long. You can walk in the event as an individual or on a team. So far, approximately 410 teams and 1,224 participants have raised nearly $40,000.
Since 1993, Making Strides Against Breast Cancer events across the country have raised more than $500 million for the American Cancer Society. The money raised goes to help those diagnosed with breast cancer who go to the American Cancer Society for support.
To learn more about this event and to get involved, visit the event website.