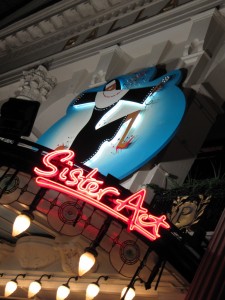 The hit Broadway musical Sister Act is coming to the Kentucky Center from Jan. 7 through Jan.12. Sister Act, the musical, follows the exploits of singer Deloris Van Cartier. She is taken into protective custody in a nearly defunct convent after witnessing a murder. Flouting the strict Mother Superior, Delores brings new life to the convent's choir.
Sister Act is an adaptation of the hit 1992 movie of the same name, starring Whoopi Goldberg. Audience members familiar with the film version will surely enjoy a live performance of the hilarious story line and lively score.
Oscar winner Alan Menken, best known for his work on The Little Mermaid, Beauty and the Beast, and Little Shop of Horrors, notably composed songs for this show. The musical has been produced every year since 2006, with its Broadway run kicking off in 2011. The Broadway production ended in August of 2012 after 561 performances. Louisville is one stop of many in the popular musical's U.S. tour.
Tickets for the show range in price from around $62 to $94. Weeknight performances begin at 7:30 p.m. There are performances at 2 p.m. and 8 p.m. on Saturday, Jan. 11, and 1 p.m. and 6:30 p.m. performances on Jan. 12.
For more information or to purchase tickets, visit Broadway in Louisville's site or call 800-294-1849.