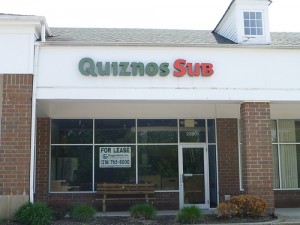 In the current economy, even some of the most well-known businesses are suffering. Quiznos Subs, for example, is headed toward bankruptcy. 
The chain eatery is preparing to file for bankruptcy court protection in the coming weeks as it faces unhappy franchisees and a $570 million debt load, according to a recent news article.
Quiznos has just reached a deal with creditors for a restructuring plan and expects to reorganize fairly quickly.
This move toward bankruptcy is happening two years into a major turnaround effort by Quiznos, which has included out-of-court debt restructuring and management improvement. The filing of Chapter 11 bankruptcy will give the company flexibility on leases and unattractive contracts, but they face a much bigger challenge.
Quiznos must repair its damaged relationship with franchise owners who have complained of shrinking business due to the high cost of operating a Quiznos outlet. The brand's success depends on the success of its franchisees.
Quiznos are getting harder and harder to find, as thousands of locations have shut down in recent years. The worldwide store count is currently about 2,100; its chief rival, Subway, has 41,000 locations worldwide and is rapidly growing.
Franchisees of the company are struggling to stay in business. In addition to the hefty fees Quiznos charges to use its name, store operators must also purchase most of their supplies and ingredients from Quiznos's distribution business.
Franchisees claim that the price of these supplies and ingredients is more than other distributors. Many, after realizing that there was no profit to make due to the cost of owning a franchise, gave up and sold their Quiznos location.
Though the company cut food supply prices last year and also tried to improve store operations and update menus, they have still missed key performance targets.
Though filing for Chapter 11 bankruptcy will slow Quiznos's decline, the chances of it again becoming a main competitor in the sandwich world is slim.
But a brand like Quiznos filing for bankruptcy is quite different than an individual filing for bankruptcy. Individuals don't have the option of filing a Chapter 11 bankruptcy.
Chapter 7 and Chapter 13 bankruptcy are the two options individuals have when they have reached a financial dead end, and we can help determine which is the best option for you.  For more information about personal bankruptcy, contact the attorneys at the Wallace Spalding Law Office.