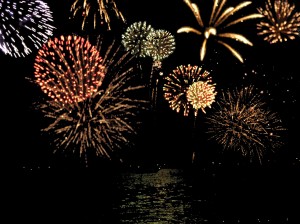 Louisville is home to some of the best festivals around, and our Waterfront Independence Festival is no exception.
This year's Fourth of July festival promises to be bigger and better than ever. Best of all, it's completely free!
Festival organizers have packed quite a few exciting activities into the two-day celebration, which is set for July 3 and 4. Among some of the many great events planned are a festival food market, a baseball game between Bats Baseball and the Indianapolis Indiana, and performances by country music star Justin Moore, jazz group Kool & the Gang, and others. And of course, fireworks will end both nights with a bang.
The festival will be fun for all ages. For kids, the festival's Catfish Louie Kids Area will offer a science experiment tent, a watermister, and inflatable games.
Each day of the festival is set to begin at 5 p.m. and end with a fireworks show at 10 p.m. The beer garden and festival food market will be held from the festival's open to close on both days. Justin Moore will perform on July 3 at 8:45 p.m. Kool & the Gang will perform on July 4 at 8:45 p.m. The fireworks show will take place over the Ohio River.
The Waterfront Independence Festival is scheduled to take place at Waterfront Park on the Great Lawn. For more information about the festival, including what you can and cannot bring into the park, visit the event website.