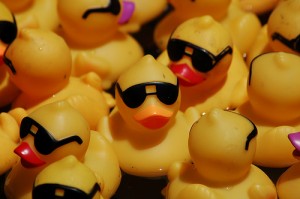 Ladies and gentlemen, start your…rubber ducks?
Prepare for a race even Churchill Downs would be jealous of as the 10th Annual Ken-Ducky Derby in Louisville kicks off on the Ohio River.
People across Louisville have generously "adopted" rubber ducks to race in the event, with over 20,000 being the goal for the event. All proceeds from adoptions benefit Harbor House of Louisville.
The race takes place on Sept. 28 on the river near Festival Plaza at Waterfront Park. Over 20,000 yellow ducks will be dumped into the Ohio River to race to the finish line. This year's prizes include a Honda Fit for the winner, $1,000 for second place, and $500 for third. One lucky duck will also have a chance at $1 million.
Surrounding the duck race is the Ken-Ducky Derby Family Festival. Admission to the festival is free, so enjoy this great Louisville event without hurting your wallet! There will be live music by Tin Roof, inflatable bounce houses, hands-on craft activities, face painting, art booths, food, vendors, and more.
For the competitive Kentuckian, kickball and cornhole tournaments will also be available.
To enter the main event, adopt a duck today. Single racers are $5, and a six-pack of ducks is $25. You also have the option to purchase 14 for $50 and 30 for $100. The more ducks you adopt, the better the chance of your duck crossing the finish line!
I highly encourage you to adopt a duck and attend this unique Louisville event. Spend a day at Waterfront Park for some family fun that won't break the budget and supports a great cause!