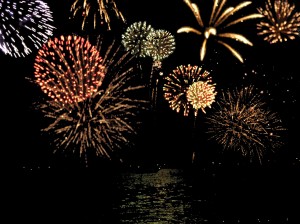 May is just around the corner, which means that Louisville's best festival and biggest attraction is so close: the Kentucky Derby. Louisville does the preliminary celebrations right, kicking off the Kentucky Derby weeks in advance!  In the months of April and May, Louisville residents and visitors get to experience the exciting events leading up to the derby.
Thunder Over Louisville is one of the best events this month, as one of the largest fireworks displays in North America and among the top air shows in the U.S. The event is considered by many to be the unofficial kick-off of Kentucky Derby season as it was founded as the opening ceremonies of the Kentucky Derby festival.
This year's theme, Thunder Vision 2013, promises to be a fantastic show, with spectacular fireworks set to a great soundtrack. Experience the magic with friends and family of all ages on Saturday, April 20. You'll join the hundreds of thousands of people that flock to the show each year. You can find space to watch the display along the Ohio River.
For more information about Thunder Over Louisville, visit the event website.