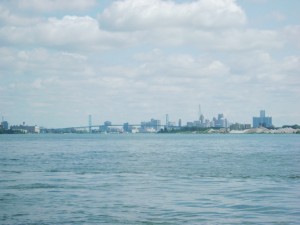 The bankruptcy of the City of Detroit made headlines in newspapers across the country. It's the "largest American city ever to file for bankruptcy," according to The Economist.
The city has estimated debts of $18.2 billion, approximately $27,000 for every resident. Since 2008, reports The Economist, the city spent around $100 million more than it brought in. Detroit has long been in decline, caused by a dwindling population and a failing auto industry, and attempts to balance the budget in recent years have largely failed.
Detroit's bankruptcy is extremely complex and may take years to resolve. However, Keyvn Orr, the emergency manager appointed by the governor, hopes to resolve it by 2014.
In order to resolve the bankruptcy and pay down debts, Detroit may sell or lease some of its assets, such as collections from The Detroit Institute of Arts, the airport, and Belle Isle (a public park). Pensions and health care benefits are likely to be cut.
The judge presiding over Detroit's bankruptcy, Steven Rhodes, will not tell the city which assets it must sell or keep. However, any agreement made by Detroit and its creditors must be approved by Rhodes.
Reactions to Detroit's bankruptcy are mixed. Many, including Michigan governor Rick Snyder, are hopeful that the bankruptcy will help the city out of its current decline. Others worry that the bankruptcy will result in a reduction of services, making the city a less attractive place to live.
"Neither the state nor the federal government has offered a bailout," according to The Economist article, meaning that Detroit will likely have to fix the city's tremendous financial problems alone.