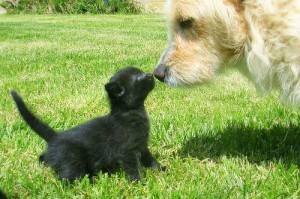 Have you ever considered adding a furry addition to your family? A dog to play Frisbee with in the park? A cat to cuddle up with on the couch?
If the possibility of pet has been on your mind, consider adopting from the Animal House Adoption Center in Louisville, Kentucky.
The Animal House is located at 3516 Newburg Road.
If you're unsure if pet adoption is right for you and your family, visit the Animal House's Information Station. Here, volunteers can help you figure out what type of animal would best suit your home and situation.
If you have a pet already but are struggling with behavioral issues, have no fear. The Information Center also can help you with training and helping your pet to adapt to your home.
Educational opportunities are available for children, helping them to understand the responsibility of pet ownership before bringing home a new furry friend for good.
The staff at the Information Center can also answer questions about local pet laws. An extensive library and take-home guides from Metro Animal Service volunteers and staff can provide you with all the information you need to successfully raise a happy, healthy pet.
If you'd like to volunteer at the adoption center, head over on Sept. 19 for volunteer orientation at 6 p.m. While volunteering, you can get involved by walking dogs, socializing with cats, helping with events, and representing Louisville Metro Animal Services.
As a proud Louisville business, we encourage you to adopt a pet from your local Louisville shelter, the Animal House.